Qi Gong Chinese Health

ABN 40033251250

PO Box 4043, Kogarah Bay NSW, 2217 Australia
Ph: +61 2 9546 6749
We specialise in teaching Qigong (part of Traditional Chinese Medicine - TCM)
We do:
Traditional Chinese medical counselling

Acupressure
Reflexology
Chinese massage
Cupping
Moxibustion
Tai Chi
Kung Fu
Taoism
Sell Qigong DVD's and CD's
Sell wide range of health supplements
Sell non-toxic personal care products
From 2001 to 2006 we published the highly acclaimed "Qigong chinesehealth" magazine (back copies still available, in hard copy as well as an eMagazine, see Products section)
For over 20 years Qigong Chinese Health has been providing quality natural therapy services, teaching Chinese health, fitness and martial arts as well as educating people on how to use Taoism, Buddhism, Feng Shui and other disciplines to greatly improve their life.
John Dolic, the founder, spent over nine years in China and was the first westerner to graduate a six year full time course from the Beijing University of Traditional Chinese Medicine.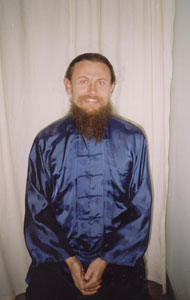 Formerly lecturer at the Acupuncture Colleges of Australia (now a part of Sydney University of Technology) - taught TCM pediatrics and TCM skin diseases in the early nineties
Former secretary and the member of the Executive Committee of the Sydney College of Chinese Medicine as well as a lecturer for 4 years (1993-97)
Former secretary and the member of the Executive Committee of the Register of Acupuncture and Traditional Chinese Medicine (1993-97)
Australian Traditional Medicine Society accredited member since 1993
Editor and publisher of Qigong Chinese Health magazine (2001 - 2006)
Duty Chairman of the Chinese & Australian Tai-chi Pa-kua Federation Incorporated since 1997
Former lecturer of Chinese Exercise Therapy at the Endeavour College of Natural Health
Running a private practice in Sydney since 1995
John Dolic, Australia's head instructor of numerous Qigong styles, has appeared on TV, in newspapers such as the Daily Telegraph and magazines as well as interviewed on radio
He specializes in teaching more than 20 Qigong styles and holds workshops, seminars and courses worldwide.
John is fluent in Mandarin, Serbo-Croatian (native speaker) and has great familiarity with Spanish and Russian
Our Mission is simple:
Popularise Qigong
Explain Qigong
Demystify Qigong
Bring Qigong into our homes and let everybody benefit from it!!