Incredible Teleporting Power
Inside Ouyang's flat his guests were buzzing with anticipation.
Suddenly the lights went out. "A power cut?" someone asked in the darkness.
Strangely the lights were still shining from the other flats in the street.
"A fuse maybe?" someone suggested in hushed tones.
Suddenly the lights came back on and from nowhere standing in front of everyone there was a young man.
Everyone was surprised. How did he enter? The doors are all locked.
Everyone fell silent, then started whispering among themselves - this was the Grand Master of Qigong. This was the man they had all been waiting for - Master Yao Jue.
Ouyang came to the master and warmly welcomed him. They exchanged a few words and then Ouyang started introducing him to his guests.
The master looked very relaxed as he shook everyone's hand. At first glance he didn't look out of the ordinary. He wore nothing special in dress and could have passed as one of the thousands of students in Beijing. However in his eyes you could see a sparkle, a spirit, they danced with life.
He looked around and said to Ouyang "Let's start healing these patients and when they have left we can talk."
The first patient was a sixteen year old boy. He had a problem with his face. One side was constantly in spasm. It marked the side of his face and pulled it into an ugly contortion. One could only feel sorry for him. It was causing him much discomfort and acute embarrassment. His mother who was with him asked for help and explained they had tried everything. Both Western and Chinese medicine had failed to make an impact, neither drugs nor acupuncture had helped. In fact his condition had become so distressing to him, he spent most of his time hiding in his house and crying.
The master didn't really listen to what the woman was saying. The way he uses his healing powers doesn't require a history of the problem as seen from the outside. This was his way.
He called the boy to come close, looked at him, saw his face and said "You don't do it any more?" meaning the spasm had suddenly cleared.
When everyone looked at his face it was normal. His mother looked at his face and said "Yes, this happens sometimes, his face returns to normal for a short time but then returns again after a few minutes. Just watch and it will return."
"If it comes back again" replied the master "I will treat it again but it will not happen again."
He turned to his next patient. As he was treating others the mother and son waited but it didn't come back. The longer they waited the more the mother couldn't believe it.
"Is it cured for good?" she asked the master, full of anticipation.
The master answered in a fashion typical of Qigong masters. He turned to the boy and asked "What do you think - is it going to come back?"
The boy moved his face, felt it, touched it, thought before answering "I am all right now."
The master said "Yes, it's all right now it will never come back"
Most Qigong masters will asks the patient to confirm the cure.
At this point the mother couldn't stop her tears of joy. She just did not know what to say.
"Do you know ", she blurted out "you have saved my whole family, my boy is my only child. How can I ever repay you? Money! How much do you want?"
"No" said the master "I don't take any money."
"What about a donation for research into Qigong" she insisted.
"No" again said the master this time more forcefully "I don't take money or donations." This attitude is typical of great Qigong masters.
His second patient was a middle aged man who couldn't walk. He was carried by two young men who put him in a chair in front of the master. The master looked at him and asked him to stand up.
The man smiled, embarrassed he looked left and right and his two helpers started to move forward to lift him up. The master stopped them.
"Don't help him! I want him to stand up by himself."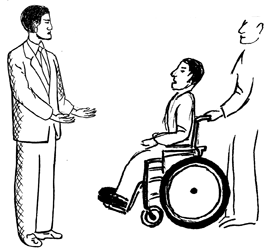 One of the helpers began to explain that he needed help in standing up.
"Let him stand up himself" repeated the master.
"Doctor, I really can't stand up." implored the man (Note: Qigong masters are often referred to as 'doctor'. In Chinese language the word 'doctor' refers to either - western medicine as well as to Chinese medicine practitioners).
The master insisted "Stand up! Can't you hear me?" his voice raised.
The poor embarrassed man didn't know what to do. He knew that for many years he couldn't walk but he didn't want to anger the master, so he thought, "I am going to try and I know I will fall." He leaned forward on his chair but suddenly instead of falling he was standing up.
His helpers stared blankly. Everyone in the room went silent.
The master said "Now take a few steps forward."
The man, once he understood what the master was wanting him to do, lifted his leg and then the other until he was walking around the room. Everyone started clapping.
"Now do a few crouches" the master ordered.
The man went up and down on his legs.
The master said "Go outside and run." After so many years of not being able to walk this middle aged man was beginning to think he could do anything. He was as excited as a little child at Christmas.
He ran out of the door followed closely by his two helpers.
The man started running around the back garden. He was so excited, screaming, shouting with joy. Tears of joy ran down his face as he punched the air with his fists.
It was a quiet night, the only sound for miles around was the sounds of joy coming from this newly liberated man.
The master listened for a while, smiled and turned inside to attend to his third patient.
This was a lady of about fifty with very swollen legs due to kidney problems.
The master knelt before her and asked her to roll up her trouser legs. Her legs were swollen like a balloon. When he gently pressed them a hole appeared. This was a very severe case of edema.
Sitting beside this woman was her husband. He was a professor of Biology at Beijing University.
"This is a very severe problem." the master said to her husband. "Please sit beside her and I will deal with the problem at the end."
With that he turned to attend to the next patient.
The professor and his wife sat quietly watching the gathering. After a short time the professor got up and went to the bathroom.
The master looked briefly at him before returning his attention to his patient.
After the professor had returned to his seat beside his wife it was a short time later before the professor had the urge to go again.
Up he got and went to the bathroom. When he returned his wife asked him "We didn't have any soup for dinner so why do you keep going to the bathroom so often?"
(Note: We must explain here a Chinese custom is that if you are a guest in someone's home you don't try and use the host's bathroom so often. It's just not considered polite - especially here as the toilet was a room off the lounge where everyone would notice.)
"I just don't know what the problem is." the husband answered.
A few minutes later he just could not hold back any longer, he tried everything from crossing his legs and putting his hand on his lower abdomen. He just had to go.
After a few times of this people started to notice.
"You seem to have a problem" commented one of the guests sitting nearby "Why don't you ask the master to treat that as well?"
The professor answered he had never had this problem before. Once everyone knew, he didn't care about being noticed.
He just kept going - five, six, seven, eight times.
Every time he just shrugged his shoulders in resignation. After a while he asked the master for help. Master Yao looked at him and said "Nothing wrong with you but lets see how your wife is getting on."
They turned to his wife and noticed her face was almost normal. He asked to see her legs and she rolled up her trousers - the swelling had gone.
Her husband was flabbergasted. "How can this be?" he uttered.
Master Yao smiled "What do you think?"
The meaning of his words slowly dawned on the professor. "Was it me going to the toilet that was helping my wife get rid of the fluids in her body?"
The master still smiling said "Yes. Today I did a little 'medical experiment'. I used your body as a medium to get rid of the fluids in her body."
"When did you use the Qigong?" asked the professor.
"As I was treating other people I was treating your wife at the same time."
The master turned and went back to treating his other patients.
Suddenly the lights went out again.
* * *
By this time it was late at night - well after midnight. The two Americans were sitting quietly outside talking and watching the lights of the flat. By now all the other lights in the other flats and houses in the street were out.
"What are they doing now?" asked the driver.
"They are doing some sort of medical experiments" the psychic answered. "I think we will play a little joke on them" he continued.
"What sort of joke?" asked the driver.
"Just look at the flat" replied the psychic.
Suddenly the lights went off.
* * *
Back inside the room Ouyang asked the master "Is that you turning off the lights?"
"No, not me." answered the master.
"It must be a power cut then."
"No, look all the street lights are still on."
The master slowly said "That was me turning off the lights when I first arrived but this time I think it is someone playing a joke on us."
In the darkness he began to accumulate the energy. He felt somebody opposing his energy, a resistance. He built up his energy a bit more and then the lights came on again. By now the master knew who it was.
"Look out of the window and you will see who is playing jokes on us."
* * *
When the lights went out in the flat the driver turned to the American and asked "Was that you?"
"Yes." answered the psychic.
As the light came on again a low scary sound could be heard coming from the car.
The psychic's belt was tightening around him, he was struggling for breath and letting out a low whistling sound.
Then it snapped and he could breathe again.
"Let's get out of here" he gasped to the driver.
And they were gone.
This was a small contest between two high level psychics.
* * *
The Qigong master had finished treating his last patient and could now turn his attention to other matters. At the gathering there were some journalists after some sensational stories and by this time it was late - about four or five in the morning. Someone noticed that no-one was tired. They asked the master why it was that everyone was so full of energy?
He answered "Well, if you are with me I am constantly using my Qi energy - it will heal you if you have a disease, if you don't it will lift your spirit and give energy so don't be surprised if you get rid of problems you have suffered from for years or you are full of energy."
Among the guests was a female reporter. She was very talkative, bright and bold as reporters are. Maybe a little too open for this gathering. As it was late and she was hungry she inquired in a loud voice if there was any food available.
The host said "Of course, I'll bring some coffee and biscuits."
"Coffee and biscuits!" she retorted. "I am not interested in biscuits. I want hundun" (wonton dumplings).
Now to prepare hundun at this time of the night is difficult and she had a hidden agenda when she requested dumplings.
She turned to the master and asked if he could help.
"How can I help?" the master asked.
"Well, you have powers. Can you get some food?"
"I don't use my powers to do that." the master answered.
This lady would not give up.
"Everyone here is really hungry, why can't you do something?" she said turning to everyone "Wouldn't you all like some hundun? Would you like to see the master conjure some up?" she appealed to the gathering.
Everyone smiled politely as they respected the master and didn't want to trouble him.
The master began" Well if you..."
"Yes! Yes!" she interrupted on behalf of everybody.
The master scratched the back of his head and said "Well OK. Do you want Guang Dong style (mild) or Sechuan style (hot and spicy)?"
Everyone decided on Sichuan. There were twenty people so the master asked for thirty cents from each person.
The master held the money tightly in his hand, knitted his brow then threw the money toward the wall and before it hit the wall it just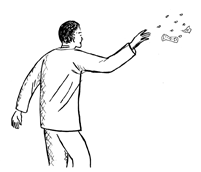 disappeared.
Everyone was dumbfounded and stared blankly at where the money should have been.
They then saw him taking out twenty bowls of dumplings from where the money disappeared.
The smell filled the room from the hot steamy bowls.
Everyone couldn't believe their eyes. One of the journalists took pictures. Everyone was speechless.
But the food was real and everyone started to eat. It was delicious.
After finishing, they put their bowls together on the table, the master swept them away but they didn't fall down - they just disappeared.
Someone asked what part of Sichuan did they come from?
"Chongqing City." (which is over one thousand miles away) the master replied.