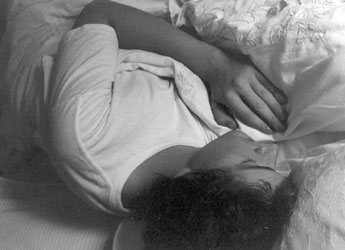 This amazing style of Qigong is one among the many that were kept secret until only recently. It is unique in many different ways and with committed practice it can turn you into a high level psychic. Well, let's be honest and admit that many styles of Qigong can enable one to reach high levels where their mind can do incredible things, such as energy healing, predicting of future, telepathy, teleporting and even levitating. However, to achieve such levels, one needs to spend years of practice, from a couple of hours a day to sometimes 7, 8 or more. Regrettably, most people in the current prevalent lifestyle find it impossible to carry out such a practice regime.
Yet no matter how busy we are during our active day, and no matter what we do with our working schedule, we all have to sleep, and on average spend around one-third of our lives in bed. That's about 20 years if we live up to 60 or 30 if we live to 90. Wow, 20 to 30 years of sleep, it is such a waste of time! Wouldn't it be wonderful if we could use all that time for other things?
Well, that's where Sleeping Qigong comes in handy. Not only does it allow us to use that time to practice one of the most powerful styles of Qigong, but it can dramatically improve our health, our relationships, our business, our mood and even our sexual performance. It can completely change our life for the better.
And it doesn't take very long to reach that goal. Some people experience improvement after only a couple of sessions, some after a couple of weeks, but if we stick to it for months or even years, the practice can turn us into high-level psychic healers and prophets. Yes, you are reading this correctly, this is not a print error, you can get more than you ever 'dreamt of'.
The difference between "Normal" sleep and "Sleeping Qigong" sleep
The difference between "Normal" sleep and "Sleeping Qigong" sleep is enormous. Normal sleep is an essential required function for most living things. It is meant to rest the body, calm the mind, improve and strengthen the inner organs' functions and increase the immunity towards diseases. With this form of sleep we lose control of the body and mind so much, that there could say be a fire in the bedroom, or a burglar around that could harm or even kill us, and we would be totally unaware of.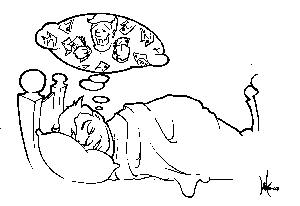 When practicing Sleeping Qigong though, we reach a state of mind in some ways similar to that of animals in hibernation. Or rather sleeping and meditating at the same time. We sleep the whole time, but we're not sleeping at all: we are still consciously aware of ourselves, and might even notice if somebody is entering our room or even our building. We would know exactly who is entering whilst still lying in bed.
When we normally sleep over a period of say, seven or eight hours, there is only about one hour of the so-called "genuine sleep". During this genuine sleep the body balances and adjusts itself so if we miss it, for whatever reason, we will wake up both tired and restless, even if we have slept for ten or more hours.
Sleeping Qigong on the other hand, leads towards a level of genuine sleep fairly quickly and allows us to require shorter sleep times, such that we can gradually reduce the sleep period and feel, as a result, better rested and more energetic when waking.
When we "normally sleep", the dreams that we have, make us feel excited, happy, angry or afraid. This is because when we sleep, we cannot differentiate between what is true and what is false. With Sleeping Qigong that does not happen, we still dream, however all the way through the experience we are fully aware that they are just dreams and therefore our emotions don't get in the way. After some time, the dreams will be able to tell us all sorts of things about our family, friends, unknown people, the past, the future and most importantly - ourselves. Eventually, they become extremely accurate and we can pre-program them to find out whatever we want to know.
Also, with Sleeping Qigong, we can influence the outcome of future events that we saw in our dreams by changing them within our mind. Usually the dreams will tell us what will occur the next day or in the near future. Say, in our dream there was an accident involving our car and another vehicle, and we were injured, however, we are able to reconstruct our dream in our mind and instead of a collision, we make the cars pass each other safely. This, and few other things that we may do the following day, will prevent that accident from occurring. Alternatively, if it still happens it will not be as severe. In the extreme, if we do not wish to take any risks at all, we can simply avoid driving the car that day.
There is a saying in Qigong that is as follows: "My destiny will depend on myself, not on heaven". When the Chinese speak, their expression sounds quite absolute, however whatever they say is meant relatively. In other words, this statement merely underlines the importance of our actions with regards to our destiny, and in the case of Sleeping Qigong, we are able to have an insight into our own future and that of other people. By changing these events, we can actively participate in the making of our own destiny, or in other words, we can change the future if we know what the future has in store.
Normal sleep often lasts, on average, seven to eight hours, whereas Sleeping Qigong can be as short as only 5 to 10 minutes and after waking we feel refreshed, because five minutes of genuine sleep can replace an hour of normal sleep.
But, sleep with Sleeping Qigong can also be as long as several days and nights, or even many weeks, non-stop. It can go against all the normal perceptions of western medicine decreeing, for instance, that we cannot exist without drinking water for more than 10 days, or without food for 30 days. It also states that we cannot voluntarily control the functions of our inner organs and we cannot function adequately without sleep on a regular basis.
A high level master of Sleeping Qigong can have non-stop sleep for a few weeks or even months where he/she does not eat or drink anything during the sleep period. These masters can voluntarily control their inner organs function, where they can decrease their heart rate until it almost stops and the beat becomes immeasurable. The same occurs with regards to breathing, it becomes so shallow that it becomes impossible to measure.
Time seems to pass faster than it actually is when practicing Sleeping Qigong. A week can feel as short as a couple of hours. On the other hand after a week of this sort of "sleep" one can stay awake for a period of a week or more with no harm or discomfort. Another thing considered impossible by western medicine (and ideal for people who like non-stop partying!!).
The ability to practice Sleeping Qigong with all its features as outlined above might seem impossible, but it has been proven many times that ordinary people who take up the practice of Sleeping Qigong can perform some or all of the abovementioned skills. Remember that these processes occur in hibernation with many animals. We often tend to forget that humans are only highly developed animals, and when we hear of practices like these, we tend to disregard them in disbelief. But somehow, we keep ignoring that spider in our garage that didn't move a mm for the whole week.
Soul travel
We have all heard about the extraordinary experiences of people who were once pronounced clinically dead, who had the so called "near death experiences". Some of them advised that, during that time, they met members of the family or close friends who had passed away. Others saw a white light and felt enormous warmth, love or great relief whereas some observed what was happening to their bodies during a surgical operation in hospital and were even able to describe the operation in full detail afterwards.
The ability of the spirit to leave the physical body has been practiced for thousands of years in China, through styles like Sleeping Qigong, and when our spirits leave our bodies, enormous relief and joy as well as white light often follow it. This is almost exactly the same as experiences reported after "near death experiences".
People who practice Sleeping Qigong also often experience seeing their physical body from the ceiling of their room, and with practice are able to travel the world and return with impressions of their journey. Of course some beginners become afraid when it all starts to happen, particularly the first time: they see their bodies on the bed and, as soon as they start to panic, the spirit re-enters the body, they open their eyes and find themselves lying in bed.
As they gather experience through regular practice, they become more comfortable with the whole thing. Usually they start by just observing their own body underneath and then, once they passed that stage and stopped freaking out, they slowly move closer to the window to look outside. Then, one day, they decide to move step forward and fly out of the window into the open. This is often the first step towards developing some psychic abilities such as remote sight, remote hearing, remote healing etc.
According to some surveys done in the late eighties in China, there were more than 1000 people, in and around Beijing city alone, who developed the so-called x-ray vision or the ability to see through solid objects such as walls, or to see inside a human body (say bone structure, inner organs etc.), all of this being a result of regular practice of Qigong.
Dreams
Dreams - what are they? Unsolved mysteries, pictures in the mind, products of our inner fears and desires, or a valuable source of information? What do they really mean? Well, like anything else that is not fully understood, dreams are an object of varying interpretation, with different meanings across different cultures and with differing perceptions.
Some naturally gifted people have pretty accurate dreams about things that are about to happen, and do happen in reality. For others, they are still accurate but do not come in that straight forward form. Instead, they are symbolic, eg. every time they dreamt about a "specific thing" something would happen in real life that they would relate it to. With time they would make a whole collection of dream symbols to assist in the interpretation of their own and other people's dreams.
Almost every nation in the world has some varying explanation for dreams. And, of course, there are always some "dream experts" who, as part of their mystic practices, cash-in on dreams by making other people happy without the proper knowledge or true psychic powers.
There are many theories about dreams and why they happen. Sleeping Qigong provides a practical tool to assist in interpreting dreams in everyday life. Soon after one takes up the Sleeping Qigong practice, the dreams that occur start to have a new meaning. At first, they are just normal dreams that do not make much sense and the practitioner is merely an observer who does not get emotionally involved with them, simply because they are not really sleeping (ie they do not make them happy if they are good or make them sad, scared etc, if they are bad).
After practicing Sleeping Qigong for some time however, their dreams start to make more sense, and they start to anticipate things that are symbolically represented in their dreams. As time goes by, the dreams start to appear in a much more straightforward fashion, presenting exactly what is going to happen. The practitioner is then taught how to deal with them including, if necessary, to even change them on the spot, in order to protect themselves and/or other people from negative situations which were presented in those dreams that would otherwise, if left unchanged, later happen in real life.
The Sleeping Qigong explanation for dreams is that, when we are awake, our consciousness is active and our sub-consciousness is passive. So we use our brain and our senses to experience the world around us, communicate with it, and learn new things. It brings better awareness of the material or sensual world (only superficially though), but it makes us lose contact with our sub-consciousness, and because of that, of the entire spiritual world as well.
When we sleep though, the opposite happens. Our sub-consciousness becomes active and our consciousness is passive.
However, when we practice Sleeping Qigong we are somewhere in-between. In other words, we have access to both - our consciousness as well as our sub-consciousness. We reach a level of balance between our consciousness and our sub-consciousness, ie establish a bridge between the two. We reach a state of mind in which we are sleeping, but we are also still awake and we can then have conscious access to a source of information normally hidden in our sub-consciousness. This is like entering a big door to our personal Treasury and to a new wonderful collection of sub-conscious powers.
Of course, the process of developing our sub-consciousness and its powers can take years as the bridge between consciousness and sub-consciousness can take time to build with Sleeping Qigong. On average the process can start to occur in a few months' time subject to our willingness and commitment to practice.
People who are naturally gifted with regards to their dreams (that is, they experience what they dreamt of for example) are often able to reach high levels of Sleeping Qigong much sooner than average people but with long term practice anybody can get there.
---