Walking Qigong Case Histories and Testimonials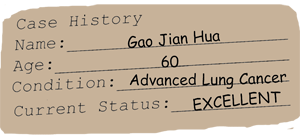 There were millions of people throughout China practicing Walking Qigong in the last thirty years. The following are only a few case histories - most often mentioned in relevant literature and showing the benefits of this powerful style. The practice benefits not only those with cancer but with many other conditions as well. The diagnoses included were given by their doctors.
Case 1
Wang, factory worker
Condition: Rheumatic heart disease
Age: 56
Gender: male
Presented with atrial fibrillation (a heart rhythm abnormality) which was treated with medication over several months, Mr Wang was hospitalised for a particularly bad fibrillation episode. His condition improved for a time but later he developed arrhythmia, which resisted any sort of treatment. Stooping or bending would bring on an attack and he became too ill to work. His pulse rate increased to 120-160 beats per minute, he suffered shortness of breath, had an enlarged liver, oedema (water in the tissues) of the legs and insomnia. His doctors told him that his condition was incurable and that treatment could only be palliative.
Wang heard about Mrs Guo Lin and, in desperation, consulted her about his condition. She told him not to worry and that she had worse cases than his get better through the practice of Qigong. On July 9, 1974, Wang began to learn Walking Qigong. Within 13 days the oedema disappeared from his legs. Towards the end of August, the fibrillation stopped, never to return. After 4 months of steady practice, his liver returned to its normal size, his pulse rate normalised, his shortness of breath disappeared and he began to sleep well. He was able to return to work.
* * *
Case 2
Gao, naval officer
Condition: Advanced lung cancer with secondaries
Age: 60
Gender: male
In July 1976 Gao consulted his doctor about a bad cough which he thought was due to the flu. An X-ray showed a shadow on the right lung and exploratory surgery revealed inoperable lung cancer with secondaries. Gao was treated with radiotherapy in September, followed by chemotherapy and Chinese herbs, in January 1977. The side effects of the chemotherapy were leg oedema, abnormal liver function, decreased white blood cells, exhaustion, headaches, dizziness and insomnia.
In May 1977, Gao became one of Mrs Guo Lin's students and began Qigong despite great physical weakness and exhaustion. The best he could manage daily was a total of 30 minutes' practice with many rests and breaks. After one month's Herculean effort, Gao's energy began to return, he began to eat better, the oedema disappeared, liver tests became normal and he could sleep. After four months he felt even better and was able to practice for three to four hours a day and this he did outside no matter what the weather. Finally, he was clear of all negative symptoms.
Much later, at a meeting of the Walking Qigong Association, where Gao was invited to tell his story, he was asked if his lung cancer had really gone. He answered that he didn't know but that he was alive and well three years after being told that he had six months to live. Gao told the meeting how he had gone back to his doctor a year later to show him that he was still alive. 'Not bad', said the doctor. Gao repeated the visit two years later. 'Wow, really not bad', said the doctor. But the next time, when Gao presented himself for the third year, the doctor admitted that his recovery was indeed 'a miracle'. (John Dolic: "On one of my previous visits to China in 1993, I found him to be very much alive, healthy and teaching others Walking Qigong".)
* * *
Case 3
Gao, school secretary
Condition: Liver cancer
Age: 56
Gender: male
In 1960, Gao presented with what appeared to be chronic hepatitis. By 1980 he was experiencing pain in the liver area, weight loss, low-grade temperature and jaundice. Further investigation showed an advanced liver cancer. Gao joined a Walking Qigong class and within eight months his health showed definite signs of improvement. His temperature became normal, he gained weight, the pain disappeared and an ultrasound examination showed that the tumour had greatly decreased. After two years of Walking Qigong, medical tests could find no signs of any cancer.
* * *
Case 4
Shi, employee of Oil Research Institute
Condition: Intracranial aneurysm (local dilation, or bulging, of an artery within the skull)
Age: 61
Gender: female
In 1975 Ms Shi began to have severe headaches on the right side of her head. Her right eye had double vision and was swollen and sore. These symptoms, varying in severity, came and went. By 1977, they had worsened considerably. The eye was now immovable, the vision even worse and the right side of her face had drooped.
Finally, in 1978, Ms Shi had a cerebral angiography (specific examination) which revealed an intracranial aneurysm. But, because of its location, the aneurysm was inoperable and she was treated with acupuncture and herbs. Her symptoms eased only a little and in January 1980 she began to have episodes of dizziness and fainting spells. She felt weak, had no energy or appetite and slept poorly. Nothing seemed to help her.
But, in March 1980, she began to attend classes in Walking Qigong as well as taking herbs from time to time. At the end of the first month, she had more energy and slept and ate better. At the end of the first year, all the severe symptoms had gone - she was free of headaches, her right eye and vision had returned to normal and she felt well. A medical check, in 1984 found her still well and free of symptoms.